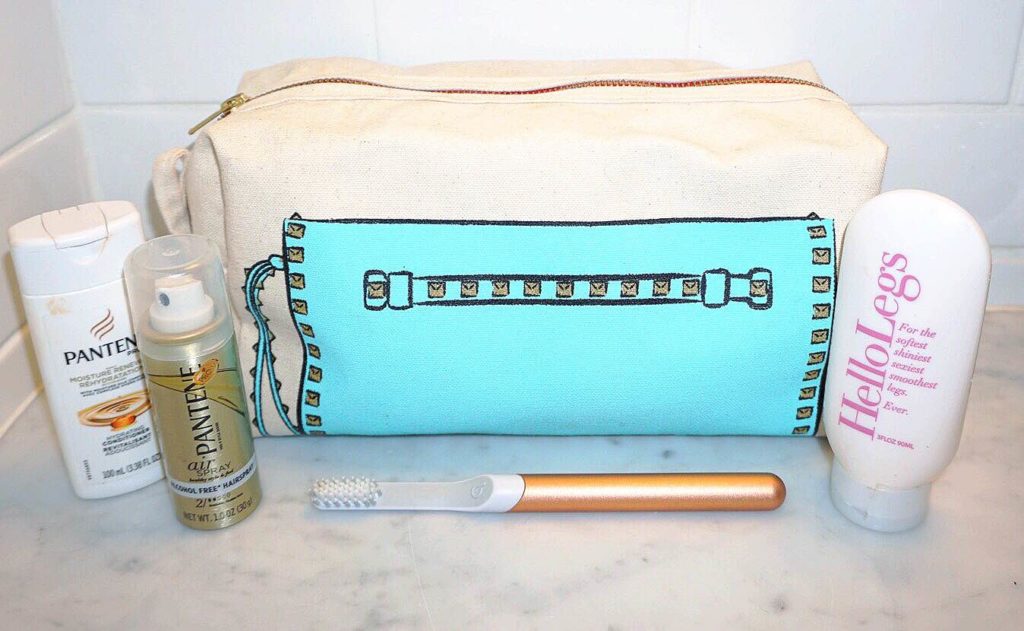 If you follow me on Instagram (@publyssity) or Snapchat (alyssaamoroso), it's clear to see that I'm always traveling during the summer months. In fact, my suitcase has doubled into a closet and my cosmetic case has become home to all of my essentials – like my makeup, personal care items, etc.
That said, I've actually found this method to be really helpful. I load my cosmetic case with everything I'll need to get through the week, weekend or workday. I like having one case with everything vs. a million small bags with just some of my items. It's easier for me to make sure I'm not forgetting to pack anything when I'm switching between carry-on luggage to tote bag to gym bag.
Keep reading to see some of the essentials I keep in my cosmetics case at all times:
Quip Toothbrush: I'm obsessed with my quip toothbrush (I have one in rose gold and one in silver). Not only is it by far the nicest looking toothbrush I ever laid my eyes on, it's effective. Quip believes that the fundamentals of good oral care lie in a consistent routine and proper technique. With that in mind, they redesigned oral care from the group up to address these big issues, one small step at a time. To learn more or buy your own, visit getquip.com.
Pantene Travel Size Products: Can't leave home without them! I'm absolutely loving the Pantene Pro-V Daily Moisture Renewal Shampoo and its Conditioner counterpart, which offers an upgraded formula to make my hair grow stronger, longer and healthier.  I'm also obsessed with the Pantene Pro-V Style Series Airspray. It smells great and is alcohol-free, so it doesn't dry out my hair. For me, it's important to have quality products on-hand even when away from home.
Hello Legs Lotion: While this product is marketed for legs, I use it as a full body lotion. I love it because it's small (you can carry it on without exceeding the fl. oz. limits), smells amazing and works like a charm!
PS. Can we just talk about how cute this 'My Other Bag' bag is? It's my very own eco-conscious, Valentino-inspired cosmetic case.


*Disclaimer: This post was in partnership with Quip. In addition, Pantene is a client at the PR Agency at which I work.