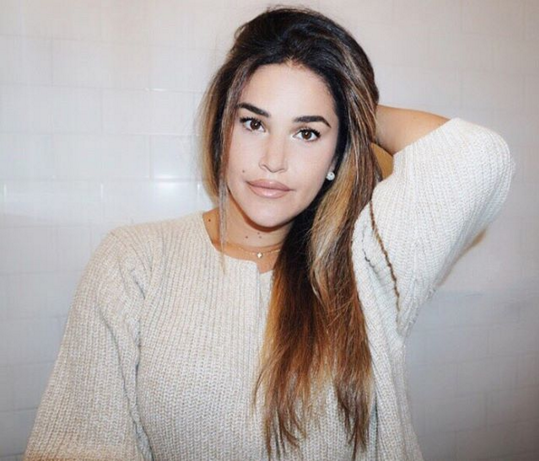 It's been a little since I've dished on my makeup tips, tricks and favorite products, so I decided it's time to share some product updates with you! I've finally found a make-up routine and items that I'm obsessed with!
My routine has remained simple for the most part. My go-to look is tan, glowy skin with a nude lip and full lashes. I'm thinking I need to get a tutorial up to show you guys how I apply everything! In the meantime, I've linked to the products I can't live without below and did my best to spell out my routine for you.
Face Makeup
First things first – I always start with my face makeup. I recently was re-introduced to Clinique's moisturizing lotion after receiving it in a gift bag and I have to say that this classic favorite is popular for a reason. I love how it's moisturizing, yet not too thick. I've been applying this under my makeup and love it.
For my under eyes, I've been applying NYX dark circle concealer, which has an orange tone to it that is supposed to cancel out dark tones. Following, I put a lighter skin-toned concealer over the same area to create a lighter, soft look. I've been loving Clarins.
After my under eyes are done, I move to the rest of my face. I've been using the Maybelline Instant Age Rewind Makeup Treatment stick, which is great because it's really affordable and also an amazing product. I love how it's really lightweight! I used this in the contour zones of my face and blend it together with a beauty sponge.
Once that's done, I move to bronzer, which is also applied to the contour zones on my face. I've been loving Hoola by Benefit (another classic!) because it's matte and the perfect shade of brown.
Lastly, I apply some blush and finish off my cheekbones with highlighter. I've been loving the 24K Gold Pure Luxury Lift by Peter Thomas.
Eyes + Brows
I generally keep it simple with my eye and am not a huge fan of eye shadow, so what I'll do it pat some of my highlighter under my brows and in the corner of my eyes for a glowy look.
If I'm attending an event or going out for the night, I generally apply false lashes with black glue and top my look off with a coat of IT Cosmentics Superhero Mascara. If I'm just going to work, I'll opt for just the mascara.
For brows, I don't really need too do much, but I do fill in one little bald spot (so weird right?!) that I have on my left brow and also even them out since they are slightly different shapes. I love the consistency of the Maybelline Eye Studio Brow Precise Shaping Pencil.
Lips
My all time favorite lip color is the NYX Plump It Up Lip Plumper in 'Elizabeth.' Seriously, I wear this in almost every picture you see of me.  That said, I do sometimes apply it with different variations of lipsticks and liners since it's just a gloss.
Lately, I've been wearing Bare Minerals Gen Nude Radiant Lipstick along with the matching Bare Minerals Gen Nude Lip Liner.
Fragrance
You can't forget fragrance! I've been obsessed with the Salvatore Ferragamo 'Signorina Misteriosa' Eau de Parfum.
Hope this helps! I'm thinking a tutorial may be best next time around.