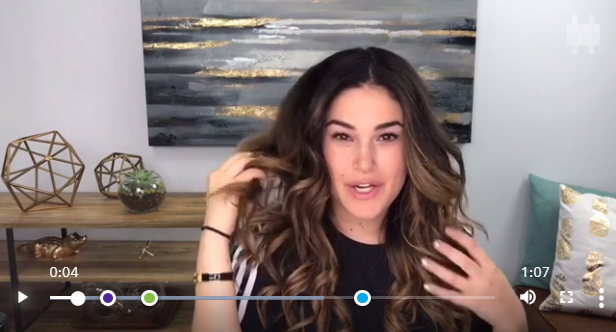 It's finally here! My first ever hair tutorial!!! I'm seriously so happy because this is just the beginning of a whole lot more of video content.
As background, I have naturally CURLY hair – I'm talking tight ringlets and I've been experimenting with hair for as long as I can remember. My earliest memory is around the age of 3, when I would play "hairdresser" and style my grandmas hair. I would take this small round brush and curl inch-wide pieces around it, while perfectly shaping and fluffing it. The funny part was, she LOVED the end result every time – so much so that this became a regular thing we would do together. Because of this, I dreamt of being a hairdresser for most of my adolescence.
As I grew up and got older I started experimenting on my own hair. I'll never forget the hideous do' I wore to my 8th grade "prom." I left my hair curly, but straightened just the ends. What can I say? This was the era of Christina Aguilera. During high school is really when I started to nail my hair game. After watching my hairdresser curl my hair once, I went home and mimicked the process. Ever since, I've experimented with just about EVERY tool out there – from straightening irons to curling irons to wands to wavers and beyond. I even bought a hair tool from an infomercial once. Plus, I taught all five of my college roommates how to curly their hair with multiple hair tools.
As you can see, styling my hair isn't just something I "have to do," it's something I enjoy doing and LOVE teaching. So thank you for watching and I'm excited to keep on goin'. As you'll see in this video, I'm using my T3 SinglePass Luxe 1″ Straightening and Styling Iron, which I can't live without! Before getting this gem, I had been using my same straightening iron since college and while it worked fine, technology has changed so much. This straightening iron is worth the investment, as it's is quick and effective.
The other products I used throughout my video are from Zoto Professionals 180PRO line. These products are amazing. Since this process puts so much heat on your hair, you want to make sure you're using products that take care of it and protect it from damage. My favorite is the 180PRO Miracle Repair Damage Eliminator Treatment, which targets hair's worst breaking points and locks in strength to radically repair hair and safeguard strands against future damage. And lastly, I finish of my look with the 180PRO Flawless Finisher Firm Hold Hairspray. 
Hope you enjoy! Feel free to comment with any questions or requests.