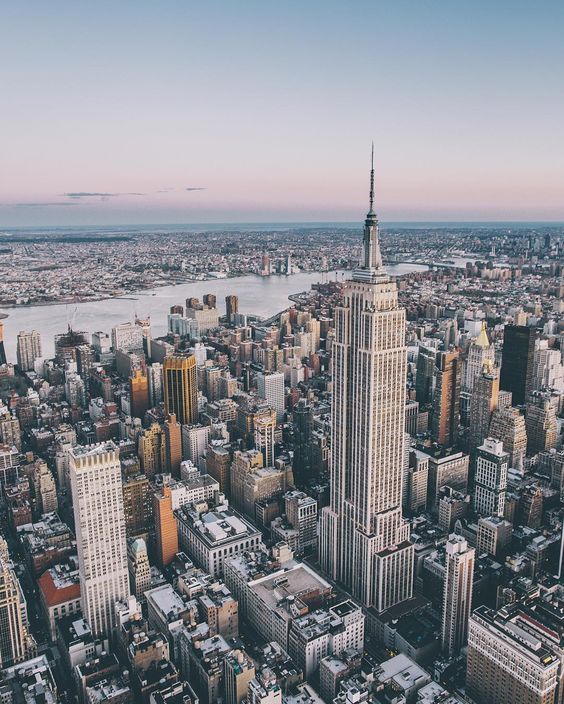 There is seriously nothing prettier than the New York City skyline. Sometimes when I'm staring at the city in which I live, I have a little *pinch me* moment. Over the past few years, I've been able to discover some of the best ways to take in the amazing view. So whether you're visiting New York City for the first time, want a backdrop for the perfect Insta or just want to do a fun activity – I think you'll find the below helpful.
1. Take in the View from The William Vale Hotel in Williamsburg
I had the pleasure of doing a little "staycation" at The William Vale and fell in love with the property. My room had a balcony with a view of the NYC skyline [pictured below], but that wasn't the only place I could take in the sights. One of the hotels restaurants, Westlight, boasts a rooftop bar with panoramic skyline views from a terrace & glassed-in lounge plus craft cocktails. This place comes highly recommended.
2. Jet Ski Around the City in the Warmer Months
One of the cooler things I've done since living in Manhattan was cruising around the Hudson with my friends on jet skis. I know what you're thinking, "ew, the Hudson water is gross!" But honestly, it was fine and we would have hardly gotten wet had my friend not purposefully splashed us. Seeing this city this way is truly breathtaking. We were able to get right up to the Statue of Liberty and go under both the Manhattan and Brooklyn bridges.
3. Hop on a Helicopter Ride
I've yet to do this, but you best believe I've already been in touch with Flyon NYC – a company that flies you around the city and helps you capture the perfect insta. They make professional aerial photography services accessible to everyone by providing a crowdsourced aerial experience. Whether you want to snap a signature shoe selfie on your iPhone, or you want to capture incredible aerial content for your portfolio: they've got a variety of options for you.
4. Cruise Around Via Boat
Everyone loves a good boating experience. You can join Hornblower New York for a dinner cruise around Manhattan, sightseeing tour of NYC, private party, happy hour, or celebration on a luxury yacht. All options comes with one thing guaranteed – an awesome view of the skyline.
5. Go Up to the Top of The Rock Observation Deck
The Top of the Rock is one of the greatest observation decks available and attracts people from all over the world daily. Here, you can take in the most incredible views of New York City and get a close look at Central Park from above. On weekends, you can buy tickets here for as low as $30 a head. 

Any questions? Leave a comment below!