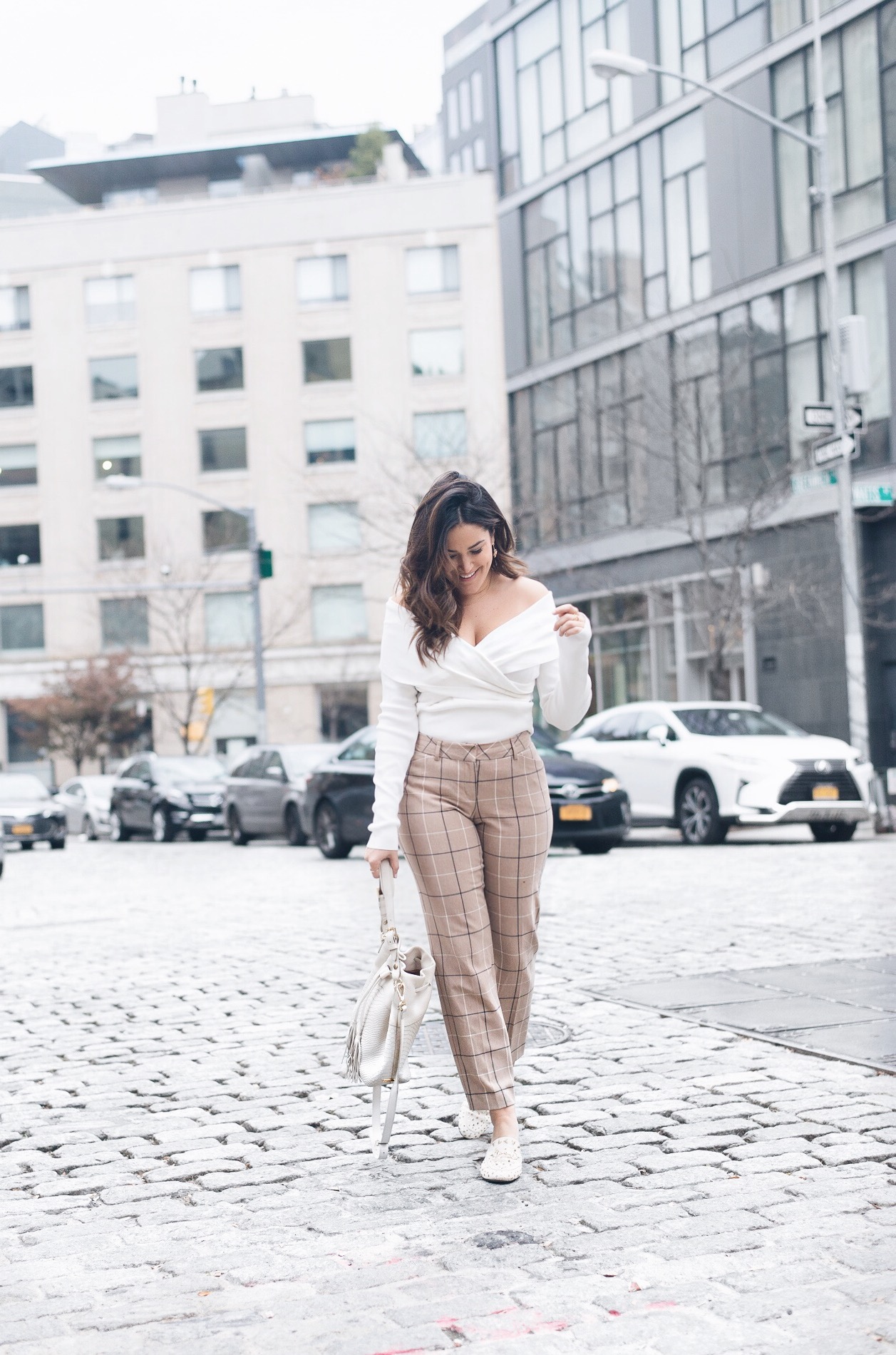 Pictured: Me heading into the event
Wearing: Do and Be Top, Express pants (old), Steve Madden Slides, Gigi New York Purse
Shop Here:

Last week I had the opportunity to attend BabbleBoxx's Holiday Preview and was surprised by how many amazing gift ideas I walked away with. As you know, it's always hard to come up with items that are unique and exciting, so I was pumped to learn about some new awesome products/Brands. I've recapped my experience for you below!
First off, I was unfortunately feeling a little sick, most likely do to the change in weather, so Tea Forte was the perfect Brand for me to stumble upon first. I spoke with the Brand reps and learned just how premium their collection of festive teas are (they're sampled in a lot of high-end hotels). They fixed me a Winter Chai tea (mmm) as we talked through the collection, which includes blends such as Raspberry Ganache, Rum Raisin Biscotti, Spiced Ginger Plum, and Ginger Snap. I learned that the comforting holiday tea blends are festively donned to celebrate the spirit and joy of the season and I could literally taste it with every sip. This grip is perfect for any tea lover on your holiday list. The packaging is beautiful and the flavors are delicious.
As I sipped my tea (which soothed my sore throat), I made my way around to some other tables. Next, I stopped to chat with the folks over at 23andMe. I knew the Brand sounded familiar and was quickly reminded why once we stroke up conversation. "OH, they are an ancestry service!" I remembered. I've always wanted to trace my roots back! We say we're 100% Italian, but who actually knows.  The Brand believes that the best gift you can give (or get!) is the chance to understand what makes someone who they are – I totally agree. With 23andMe, you can share your genetic information with your family members to get an even clearer picture of who you are and where you come from. You can learn more on their site!
Next up was Algenist, which is a breakthrough vegan collagen-based beauty/skincare line with a formulation readily available for youthful vitality. The unique formula of plant collagen and Microalgae Oil beads helps restore skin's bounce and resilience in just 10 days. I love the idea of gifting these products to your beauty-obsessed friends & family members.
Speaking of beauty lovers – I also stumbled upon Grande Cosmetics, which is a beauty brand featuring a variety of products. What really stood out to me was the GrandeLASH-MD Serum. The two girls I was speaking with has UNREAL lashes and they let me know that they were completely natural (with a little help from the serum). As someone who gets lash extensions, I was immediately interested because their revolutionary lash enhancing serum that promotes longer, thicker-looking eyelashes in as little as 4-6 weeks.
And lastly, I stopped at Perfumania table, where I tried on some scents and walked away with a little sample of Dolce & Gabbana's Light Blue (my fav). You can find your next ragrance obsession among the hundreds of designer brands at Perfumania (they have over 150+ retail locations!). Or if you're like me and do a lot of your shopping online, check them out digitally.
Hope this helps inspire some holiday gift ideas!