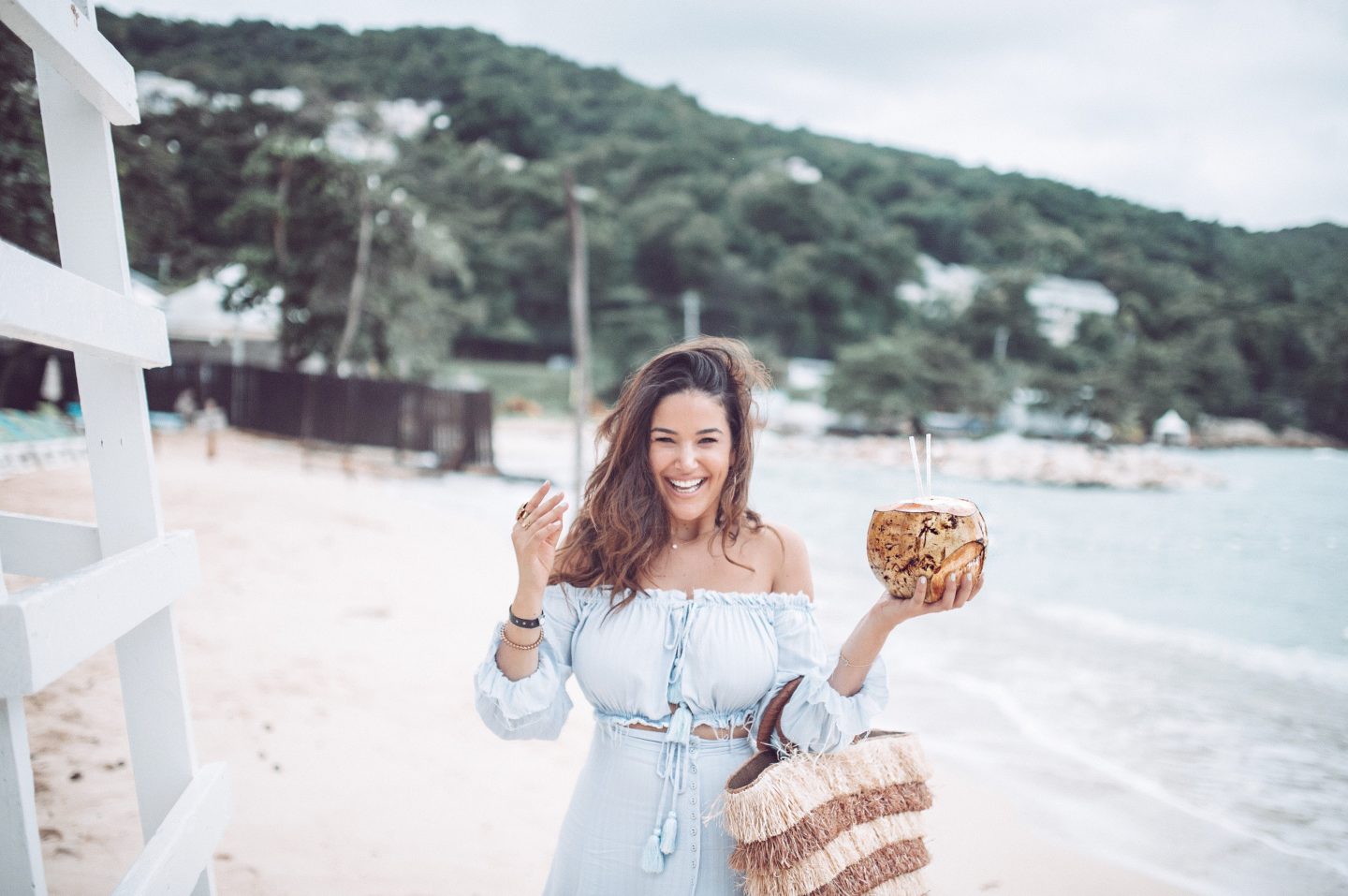 If you follow me on Instagram, you know I was recently in Jamaica with some of my best blogger babes (@eastcoastfox & @laurenmazzei) and our amazing photographer (@LaurelCreative). After I travel, I love writing up travel diaries, where I share my travel recommendations and spill on what I did while away. It's a great way for me to not only recap on my trip, but to help those who plan to travel to the same area.
This was my first time traveling with other bloggers and a photographer and it was amazing. These girls aren't just business partners – they've become best friends and it's so fun to travel with people who "get you" and have the same interests. We would spend mornings shooting and the rest of the day girl chatting and hanging around by the pool/exploring Jamaica.
Now, onto the part you care about – where we stayed and what we did.
We flew from JFK to Montego Bay, Jamaica. The flight is just under 3 1/2 hours, which isn't too bad. However, out hotel was in Ochos Rios, which is about 1 1/2 hours from the airport. Knowing this, we took an early morning flight so that our first day was still a full one (we got to our hotel around 1pm).
Our hotel, The Moon Palace Jamaica, was beautiful and was honestly the nicest all-inclusive I've ever stayed at (and I've stayed at a bunch). It was fully loaded and had so many offerings including 24/7 room service, fine dining (the Japanese restaurant was our favorite), a snack bar, a coffee bar and a sushi stand. There were also water sports, a huge pool slide and one of those manmade surf parks.
Aside from the abundance of activities on the grounds of the resort, there was a plethora of pools, hot tubs, sun beds and lounge chairs on the beach. The resort was HUGE and super clean. It was also very family-friendly, so I'd definitely recommend it for those of you with kids.
Since we weren't there too long and since I've been to Jamaica once before, we kind of just stuck to the hotel (since there was so much to do). However, one day we did venture into town and enjoyed margaritas as Margaritaville, as well as shopping in the neighboring area.
However, if it's your first time in Jamaica, I would highly recommend stopping by Dunns River Falls, which is one of Jamaica's national treasures. It's a bit hard to explain, but it's basically a cascading waterfall that you can climb. You hold hands and form a human chain as you make your way up the waterfall. When you get to the top, there are tons of shops and tourist attractions. Although we didn't do it this trip, I have done it in the past and it's a must-do if you're in the Ochos Rios area.
For those of you that are interested in everything I wore while on my trip, I've included a gallery below. Just click on the image to purchase! Any questions? Leave me a comment and I'll be sure to get back to you.