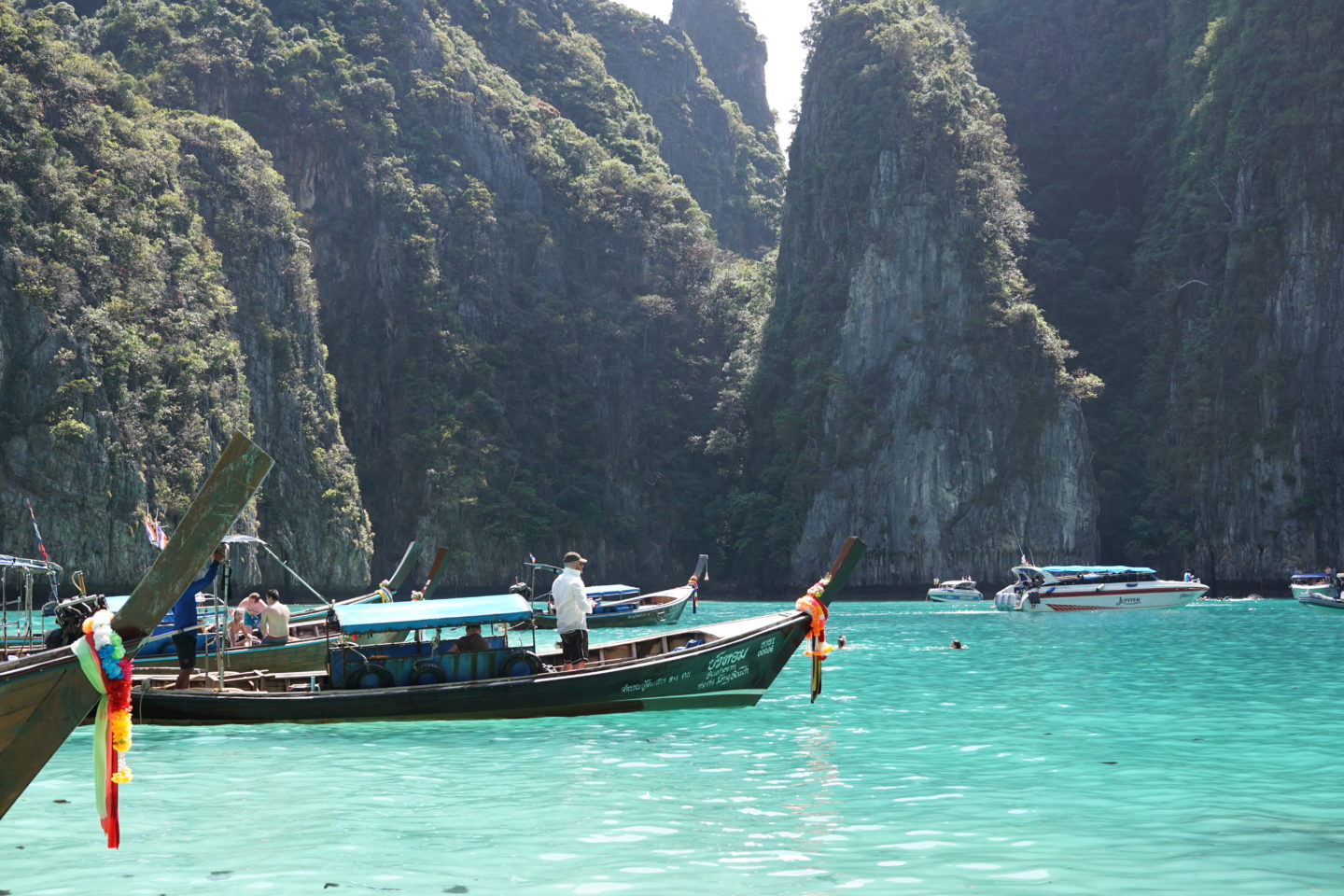 Where do I even begin?! My Thailand trip was incredible and I'm so eager to collect all of my recommendations and tips into one place for you guys. This way, when you decide to go (because you must!), you know what to do, where to stay, etc.
As background and before getting into the nitty gritty – I want to share why this was such a special trip for me. My college best friends and I all moved to different cities after school. We stayed in touch and see each other when we can, but weekend visits don't compare to the time spent living together for four years. We made a promise that once we were all settled in our careers we would take a trip. That time came and we jetted off to Thailand! We had more laughs than I can count and picked things up right where we left off.
It was honestly a trip of a lifetime and I'm so excited to dive into the details. I've separated the below by city and included as much detail as I can (so apologies in advance for the length). Comment below with any questions that I may have not answered!
---
BANGKOK
Time Spent: 2 nights (one was basically just us going straight to bed when we got in, then we had a full day and night, then were out the door the following morning)
FLIGHT + HOTEL 
Airline: Air China (we flew from Newark to Beijing to Bangkok – about 24 hours door to door)
Rating & Review: 7/10. It was honestly fine, but not a top of the line aircraft. However, we paid around $600 for round trip tickets, so the price really pretty affordable considering we were traveling half way around the world.
Accommodations:  The Pullman Bangkok Hotel G
Rating & Review: 9/10. Beautiful hotel and accommodations. Breakfast was included (featured a mix of both Thai and American options). I liked that the hotel was close to the airport (about 30 minutes) and not far from the main attractions like The Grand Palace. There are other hotels that are more "in the city," but to be honest, the city is a little run down, so I didn't mind not being in the heart of it. Plus, we were hardly ever in our room.

ACTIVIES 
1/2 Day Tour: Damnern Saduak Floating Market, Grand Palace and Wat Phra KeoTour from Bangkok via Trip Advisor
Rating & Review: 10/10. Since we flew into Bangkok really late (1am their time), I was nervous about wasting away our only full day in Bangkok, knowing that we'd only have a few hours of sleep and wanted to see a lot. As such, I booked up a tour via Trip Advisor last minute, which hit all of the main attractions that we wanted to see. I 100% recommend going this route vs. trying to do it yourself. The floating market and Grand Palace are far from each other and take about 1.5 hours no matter where you are, so having a driver was really helpful. I can't imagine how we would have gotten around had we not done a tour. Our tour guide was a gem and the experience was awesome. We stopped at a hut on the side of the road to see where salt is made, then a coconut farm, then the floating market (which is a MUST), then lunch (provided) and lastly, the Grand Palace. Note: for the Grand Palace make sure you bring clothing items that cover your knees and shoulders, otherwise you will not be allowed into see the temples.
Drinks with a view: Sky Bar at Lebua (where The Hangover 2 was filmed)
Rating & Review: 10/10. I was a little hesitant about going to such a touristy spot, but to be honest, it was INCREDIBLE and so worth the type. We took an elevator 60+ stories up to the rooftop bar that overlooks the entire Bangkok skyline. This will be your most expensive part of the trip, where drink prices are equivalent to a swanky NYC cocktail (around $25 USD). We also decided to stay on the property for dinner and dined at Breeze, which had just as beautiful of a view. Again, this will be your most expensive meal of the trip (think: $75-$150 USD per person).
---
CHIANG MAI
Time Spent: 2 nights 

FLIGHT + HOTEL 
Airline: Thai Airlines
Rating & Review: 10/10. We were obsessed with this flight! The aircraft was super high-tech, clean and overall luxurious. It was only about 1.5 hrs to get to Chiang Mai from Bangkok, but they served us a meal and all. Highly recommended.
Accommodations:  The Shangri La Chiang Mai 
Rating & Review: 10/10. This hotel was magnificent and boasted 5-star accommodations. My favorite was the huge pool, surrounded by cabanas and lounge chairs. We spent afternoons relaxing in the sun and evenings passing out in the comfy beds.
ACTIVIES 
Cooking Class: Zab E Lee
Rating & Review: 10/10. I highly recommend doing the evening cooking course. We had the BEST time! The cooking school picks you up from your hotel and brings you to a local market, where you learn about the ingredients you're about to cook with. From there, you go to the venue, where you create a 5 course meal. Our guide was hysterical and the meal that we made was the best that we had while in Thailand. At the end of the class, you get to take home a cooking book, full of all of the recipes so you can recreate them when you're home. NOTE: the entire course (including the food and transportation) is only $30 USD.
1/2 Day Elephant Excursion: The Elephant Jungle Sanctuary
Rating & Review: 8/10. I'm going to be completely transparent here – this experience was not what I was expecting at all. Don't get me wrong, it was likely one of my favorite memories from the entire trip because we had SO many laughs. However, it was just different than what I expected. Everyone on Instagram posts these amazing photos hugging what appear to be calm elephants, yet I found them to be giant and scary as hell (lol!). It's just really intimidating being surrounded by 15 elephants at once that are all larger than life. I'm not that comfortable around animals, so I was freaking out when I saw them trotting down the hill towards us. After spending some time with the elephants, I definitely warmed up and even got in the water to bath them, but it did take some time. If I were to do it again, I'd probably look into doing a smaller tour with a one-on-one guide and a single elephant. However, I wanted to be really aware of the treatment of the animals, which is why I chose to go to a sanctuary vs. a farm where they let you ride the animals and potentially harm them. NOTE: we paid $50 USD for the excursion (including food and transportation), which is about $100 less than some of the other places we looked into, so the price was definitely a plus.
OTHER THINGS TO DO
Hang by the hotel pool in the afternoon/evenings
Go to the "night market" where goods are sold. Our tour guide in Bangkok told us to hold off on buying souvenirs until we were in Chiang Mai because that's where they're all imported from anyway. This was a really good tip because she was 100% right. There a huge market with every single souvenir you could imagine. She also told us to bargain, which we did. Nothing costs more than $100-$400 BAHT, which only averages to $3-$12 USD.
---
PHI PHI
Time Spent: 3 nights 

FLIGHT + HOTEL 
Airline: Thai Airlines
Rating & Review: 10/10. This flight was quick (about an hour), so it didn't really matter what plane we were on to be honest. However, like last time, we really enjoyed Thai Airlines.
Accommodations: Phi Phi Island Village Beach Resort
Rating & Review: 10/10. Breathtaking. That's the only word  I can use to describe this property and place in general. We pulled up to our resort by way of boat and were instantly amazed by its beauty. The staff was wonderful and accommodating, even upgrading us into a two-story villa overlooking the resort and beach. It was equip with a private pool, two bedrooms, a kitchen, an outdoor bath, a large deck + patio and so much more.
ACTIVIES 
Longboat Tour: Longboat Tour via Your Hotel
Rating & Review: 10/10. We organized a longboat tour through our hotel concierge desk. This is one of the main things you must do if you're staying in the Phi Phi Islands. The tour takes you around the beautiful Indian Ocean, pit stopping at various smaller islands that all offer unique activities. One of the islands we went to offered insane views and an adventurous cliff climb (we needed to climb down a rope net to get to the waters) with snorkeling. Another, nicknamed "monkey beach," is crawling with wild monkeys. There are tons of signs warning you not to feed or touch the monkeys (after all, we're the ones invading their natural habitat) and i'd strongly recommend you listen. I saw a man get bit TWICE – once in the hand and once in the back of the neck. He was trying to be a tough guy and was letting the baby monkeys crawl all over him… Let's just say that momma monkey wasn't happy.
OTHER THINGS TO DO
Relax by the pool (this is the time of your trip where you veg out)
Walk behind the hotel to enjoy in-town eats and bars. We were told by many to check out the small town behind the hotel since the staff really tries to keep you on the property and doesn't speak much about the town. They were right! The town was charming and touted fun bars, restaurants and places to buy things such as snacks, alcohol and more.
---
WHAT I WORE
Shop all of my looks here: From bathing suits to nighttime outfits to daytime pieces, shop all of the looks I wore by clicking on the below photo links. If you see something you like on my Instagram that isn't listed, comment and I'll provide a link!